How Polyglutamic SPF makes your skin so dewy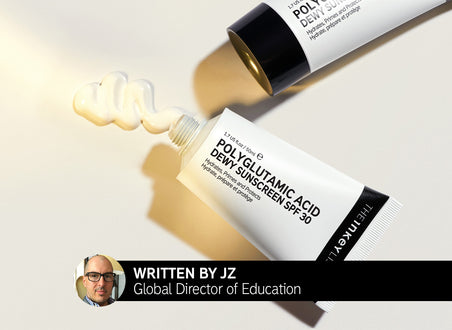 Let's talk about the importance of using sunscreen every day!  
As we all know, protecting our skin from those harsh UVA and UVB rays is crucial for maintaining healthy looking skin. Our new Polyglutamic Acid Dewy Sunscreen SPF 30 not only provides top-notch protection, but it also enhances your natural radiance, leaving you with a dewy, healthy glow.  
But what's the secret behind this product? Well, the secret lies in the carefully formulated ingredients that work together to hydrate, prime, and protect your skin. In this blog, we will share the science behind the ingredients and how to use sunscreen in your skincare recipe. We've also got you covered with tips how to re-apply on top of your makeup. 


THE SCIENCE BEHIND THE INGREDIENTS
Have you heard of Polyglutamic Acid? Well, if you haven't, it's a game-changer for your skin! This ingredient can hold up to four times the amount of water compared to hyaluronic acid, which means it will leave your skin looking plump and radiant. It is a key ingredient in the Hydration trio that also includes glycerin and squalane. Together, they are responsible for giving that glow to your skin without the oily or greasy feeling. 
The broad-spectrum chemical SPF 30 shield sunscreen includes the ingredients of avobenozone, ensulizole, octisalate, and octocrylene. They keep your skin safe from the harsh effects of the sun. It's important to note, this product is free of oxybenzone and octinoxate, which are believed to be harmful to coral reefs.  


SPF USAGE ADVICE
Almost no one uses as much sunscreen as you should. We recommend the Two Finger Method – a  simple way for you to measure how much sunscreen to apply to your face and neck. This method is to squeeze the product in two separate lines on your pointer and middle finger – this is an adequate amount of product for your face and neck. 
Applying Every Two Hours: Apply sunscreen before going outdoors 15 minutes before. This gives your skin enough time to absorb it and provide protection against the harmful UV rays. If you wait until you are in the sun to apply sunscreen, your skin is unprotected and can burn. 
To remain protected when outdoors, reapply sunscreen every two hours, or immediately after swimming or sweating. People who get sunburned usually didn't use enough sunscreen, didn't reapply it after being in the sun, or used an expired product. Your skin is exposed to the sun's harmful UV rays every time you go outside, even on cloudy days and in the winter.  


We all know how important it is to protect our skin from harmful UVA and UVB rays, especially when we're out in the sun for extended periods of time. But it can be a bit challenging to keep makeup intact while re-applying SPF throughout the day. Worry not, as there are clever ways to ensure your skin stays well protected without ruining your makeup.  
To start with, always apply an adequate base before putting on any makeup – this should be the final step in your daily skincare routine. Now, when the time comes to re-apply SPF, you can simply use a sponge to blot sunscreen on top of your makeup gently. Just add some sunscreen to a dampened sponge and lightly dab it all over your face until absorbed, ensuring every area is adequately covered. 


BEFORE YOU HIT THE OUTDOORS
To sum up, Polyglutamic Acid Dewy Sunscreen SPF 30 is a gamechanger when it comes to product innovation. The formulation is made of quality ingredients that hydrate, prime and protect your skin from sun damage. It's easy to use, affordable and won't clog your pores. Plus, you can use it while wearing makeup!  
Now that you understand the key ingredients behind the product, how to apply the sunscreen and why this sunscreen is so beneficial for your skin health, you'll be able to confidently make it part of your daily routine. Ready for glowing skin? Get on top of sun protection with Polyglutamic Acid Dewy Sunscreen SPF 30 – it's an essential step you can't afford to miss! 


Still have questions? Chat to our askINKEY team!