|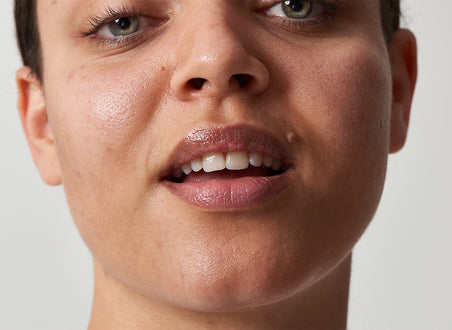 Question: Do you have shiny skin, enlarged pores, and are prone to blackheads and breakouts but at times your skin feels tight? If you answered YES, it's likely you fall into the skin type category of OILY. Our skin types are genetically determined and typically fall into oily, dry, combination and normal, from which we can base the products in our routine.
WHY DOES MY SKIN GET OILY?
Oily skin produces excess sebum from the sebaceous glands under the skin causing a greasy or shiny appearance which can be particularly prominent on the t-zone - forehead, nose and chin. 
Sebum is necessary to keep the skin hydrated, protected and healthy but too much can lead to breakouts. This is caused when oil, dirt and bacteria block pores and can leave a greasy/shiny sheen to your skin.
Oil production can also be affected by a number of other factors.  High stress levels, environment, hormones, age all have an impact. If you live in a warmer, more humid climate or even just through the summer months, your skin will react to the temperature. Oily skin can also run in the family - so sending more gratitude to our genetics!  
SKINCARE ROUTINE FOR OILY SKIN
We've mapped out the best skincare routine for oily skin, using some of The INKEY List's bestselling products. For a personalized skincare routine, discover our Recipe Builder today and create a routine tailored to more of your skin concerns. 
BEST CLEANSER FOR OILY SKIN
A water-based cleanser is best for oily skin and Salicylic Acid is a hero for cleansing pores and balancing oil.  
This non-drying, lightly foaming cleanser removes makeup and dirt, while helping to reduce blackheads and breakouts. As well as effectively cleansing the skin, this 2% Salicylic Acid cleanser has an added zinc compound. Together they help with oil-control, reducing blackheads and breakouts and promoting a more even looking complexion.
HOW TO USE: Use AM and PM. Gently massage a small  amount  onto  dampened  face  and  neck.  Rinse  thoroughly  with  water. Follow with preferred serums and moisturizer. 
BEST TREATMENTS FOR OILY SKIN
 Serums and exfoliating acids that can cleanse the pores and help balance oil production are your best friend if you have oily skin.
A lightweight, power-packed serum containing 10% Niacinamide. This naturally occurring B3 vitamin helps to effectively reduce excess oil, blemishes and redness. Additionally formulated with 1% Hyaluronic Acid for added hydration and effective delivery.
HOW TO USE: AM and PM, after cleansing and hydrating with Hyaluronic Acid Serum, gently pat a pea-sized amount into face and neck. If using alongside other serums, layer in any order or check out our tips on layering below.
BHA is an exfoliator that works beneath the surface of the skin to help unclog pores, target blackheads and reduce excess oil. Oil soluble, this BHA serum contains 2% Salicylic Acid. This means it can penetrate deeper into your skin, helping to unclog pores, fight blackheads and breakouts and reduce pore appearance. BHA is great choice for oilier skin as its anti-inflammatory and anti-bacterial properties can help calm breakout prone skin. Thanks to added 1% Hyaluronic Acid it is non-drying to skin.
HOW TO USE: BHA can be used in the AM or PM as preferred. Gently pat 1-2 drops into the face and neck after cleansing and Hyaluronic Acid Serum if using. It can also be used as a more targeted treatment for blemish prone areas. Follow with preferred serums and moisturizer.
Find out more about chemical exfoliants in our recent blog.
BEST TONER FOR OILY SKIN
This 10% Glycolic Acid exfoliating toner helps to reduce the appearance of pores and fine lines, as well as support smoother and brighter skin. Derived from sugar cane, Glycolic Acid unsticks dead skin on the surface to help improve the overall appearance of skin texture and brightness. Formulated with 10% Glycolic Acid for maximum effect, and 5% Witch Hazel to help reduce excess oil and soothe skin. Recommended for those with oily or congested skin.
HOW TO USE: Gentle enough to be used in the AM and PM. After cleansing and Hyaluronic Acid Serum if using, saturate a cotton pad and sweep across the face and neck. It does not need to be rinsed off. Follow with preferred serums and moisturizer.
OR for sensitive skin - try our PHA TONER for a more gentle exfoliation. 
BEST HYDRATOR FOR OILY SKIN 
As with moisturizers, oily skin doesn't mean it's hydrated. In fact, dehydration can create more oil production. 
This natural skin oil helps to hydrate and protect your skin.
A natural, super-lightweight face oil that improves skin hydration and helps reduce the appearance of fine lines. 100% plant-derived, this Squalane oil is lightweight, non-greasy oil that's super hydrating for healthy, glowing skin. It can also help to reduce the appearance of fine lines and support oil control. So, it's a great choice for all skin types, from dry to oily skin.
HOW TO USE: Can be used AM and PM as preferred. Massage 1-2 drops into the skin after moisturizer or add 1-2 drops to your moisturizer. For more information on layering, watch the video in the layering section below. 
BEST SUNSCREEN FOR OILY SKIN
Our daily Dewy SPF 30 Sunscreen, is THE most important step in your skincare routine, this lightweight, broad-spectrum SPF 30 offers UVA & UVB protection. It has been designed to work for all skin tones and blend seamlessly into the skin leaving an undetectable, dewy finish. Loaded with skin-loving ingredients, the 8% Hydration Trio includes Polyglutamic Acid, Glycerin and Squalane, helping to lock in moisture and deliver an ultra-hydrating boost. The non-greasy, non-pilling formula leaves skin smooth, dewy, and primed creating the perfect base when worn alone or applied under makeup.​
BEST NIGHT TREATMENTS FOR OILY SKIN
For deeper treatments a couple of times per week, the focus is on getting into the pores where excess sebum may be building up which can result in breakouts or acne. 
This overnight treatment targets breakouts. Its powerful combination of Vitamin C and Vitamin E helps reduce the bacteria count on your skin, helping prevent and reduce blemishes. Salicylic Acid also helps to exfoliate and unclog pores, while Lotus Extract helps to balance oil.
HOW TO USE: To be used in the PM as your last step before sleep. Follow your usual skincare recipe, but replace your moisturizer step with this night treatment to help reduce and prevent breakouts. Apply a thin layer to face and neck. It can also be used on other blemish-prone areas, including your back and chest. Once absorbed leave to work overnight and wash off the next morning.
OTHER WAYS TO PREVENT OILY SKIN
Cleanse and wash your face regularly in the AM and PM to remove excess oil 
DON'T over cleanse or exfoliate. Especially with scrubs or harsh cloths as the friction on the skin can stimulate increased oil production. Also be conscious of when you're touching the face. If the oil is removed too frequently, the skin thinks it needs replacing and creates more.  
Avoid oil-based products and makeup which may clog the pores and make skin appear oilier. Look out for products labelled as non-comedogenic which won't block the pores. 
Be aware of the impact your diet can have on the appearance of your skin.
Manage your stress levels - when you're stressed we produce excess cortisol which can cause a hormonal imbalance and trigger reactions in the skin such as oil boosts and breakouts. 
Be aware your skin type can change over time based on certain environmental factors, age, hormones etc so be sure to adjust your routine if you notice changes in oil production, hydration or response to your current routine. It's important to keep in tune and listen to what it needs. 
For further questions, support on skincare for oily skin or to create a tailored recipe for oily skin - contact the team at #askINKEY and sign up to our mailing list for the latest skincare updates.