What's the best moisturizer for blemish-prone skin?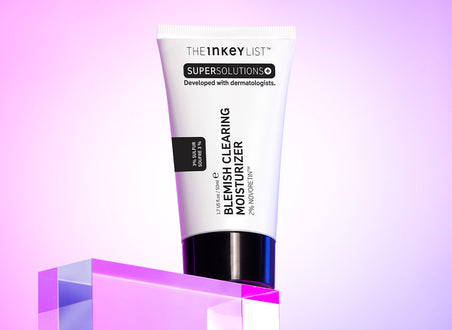 With an estimated 650 million people affected by blemishes and breakouts, it continues to be the most common skin concern globally. At The INKEY List we understand the difficulties you face when it comes to navigating blemishes and finding the right solutions for your skin, so we're here to make it clear.
One of the biggest misconceptions around skincare routines for blemish-prone skin is when it comes to using a moisturizer. From thinking you shouldn't use one on top of active blemishes to worrying about it sitting heavy or clogging pores and ultimately making blemishes worse – which often means many of you will skip this crucial step in the routine.
However, although blemish-prone skin may feel oily, it's actually more prone to dehydration because of the blemishes impacting the skin barrier. When the skin becomes dry, our body produces more oil which can clog pores and may lead to more breakouts. Therefore, the right moisturizer can not only help to tackle dryness and discomfort but also help to clear blemishes and protect against new breakouts.
That's why we're launching a revolutionary new product to not only put a stop to the moisturizer confusion but to actively target and reduce blemishes.
Introducing new
Blemish Clearing Moisturizer 2% NovoRetinᵀᴹ
. A breakthrough moisturizer that's clinically proven to help fight and reduce blemishes overnight while providing the essential moisturisation that is needed for blemish-prone skin.
CLINICALLY PROVEN RESULTS
CLINICALLY PROVEN TO VISIBLY REDUCE BLEMISHES WHILE YOU SLEEP*
CLINICALLY PROVEN TO IMPROVE THE APPEARANCE OF REDNESS OVERNIGHT*
CLINICALLY PROVEN TO VISIBLY IMPROVE SKIN TEXTURE IN 4 WEEKS*
*12-week independent clinical study of 22 people under dermatological control
As well as targeting the appearance of blemishes, the groundbreaking formula helps protect skin from becoming dry and reduces the production of excess oil, which in turn can lead to more breakouts. Crucially, the formula is non-comedogenic, allowing it to hydrate without clogging pores or causing additional congestion.
INTRODUCING HERO INGREDIENT, NOVORETIN™
A groundbreaking ingredient, NovoRetin™ works in an innovative way to boost the effects of retinol on the skin, helping to fight the effects of blemishes overnight and visibly smooth uneven skin texture.
When a form of retinol reaches the skin, it is converted into retinoic acid which is the only form of retinol that can make an impact on the skin. Retinoic acid works in the skin in two ways: it exfoliates to help clear skin and it regenerates to improve texture, tone and smooth the skin. Like all actives in the skin, retinoic acid can only work for a limited time before enzymes break it down and it no longer has any effect on the skin.
NovoRetin™ stops the enzymes that would normally break down retinoic acid, to allow it to work for longer on the skin meaning more exfoliation, more regeneration and ultimately better results.
HOW TO ADD TO YOUR ROUTINE
Clinically proven to clear blemishes while you sleep,
Blemish Clearing Moisturizer 2% NovoRetinᵀᴹ
is the ultimate overnight treatment. Only for use as part of your PM routine, after cleansing, apply a pea-sized amount to face and neck.
Due to the high potency of the formula, start by using twice a week, non-consecutively, to allow your skin chance to adapt. Only if you feel your skin can tolerate more frequent use, gradually increase usage to every night, if blemishes persist.
Remember, always do a patch test before use.
Want to know more about our new
Blemish Clearing Moisturizer 2% NovoRetinᵀᴹ
or have a question on blemishes or breakouts? We're here to help! Chat to one of our
#askINKEY
 experts to get the answers you need.