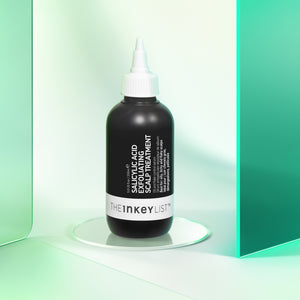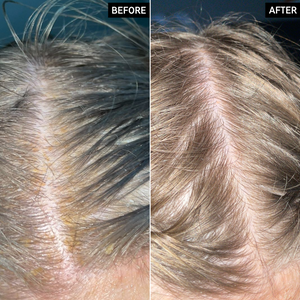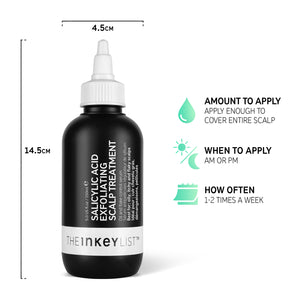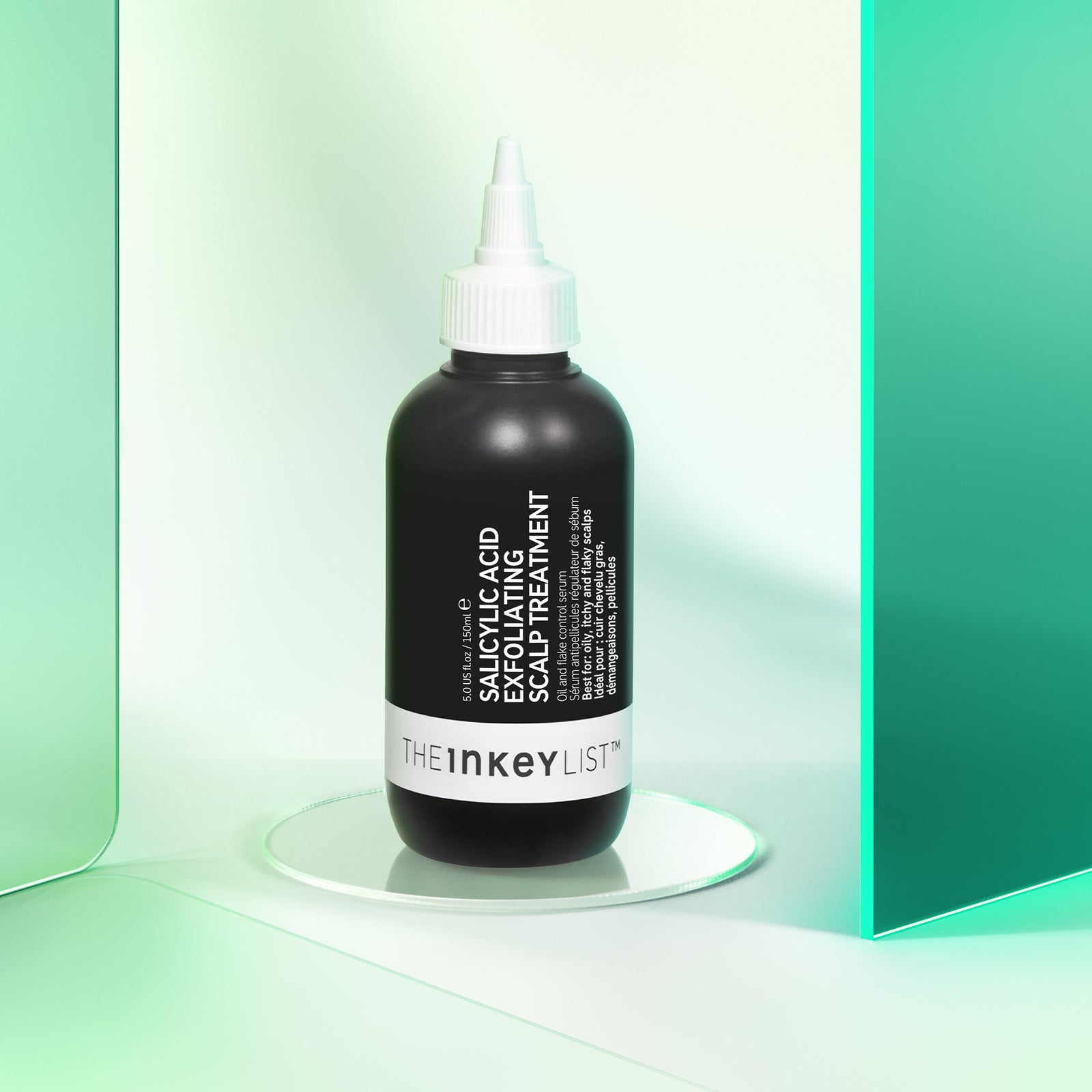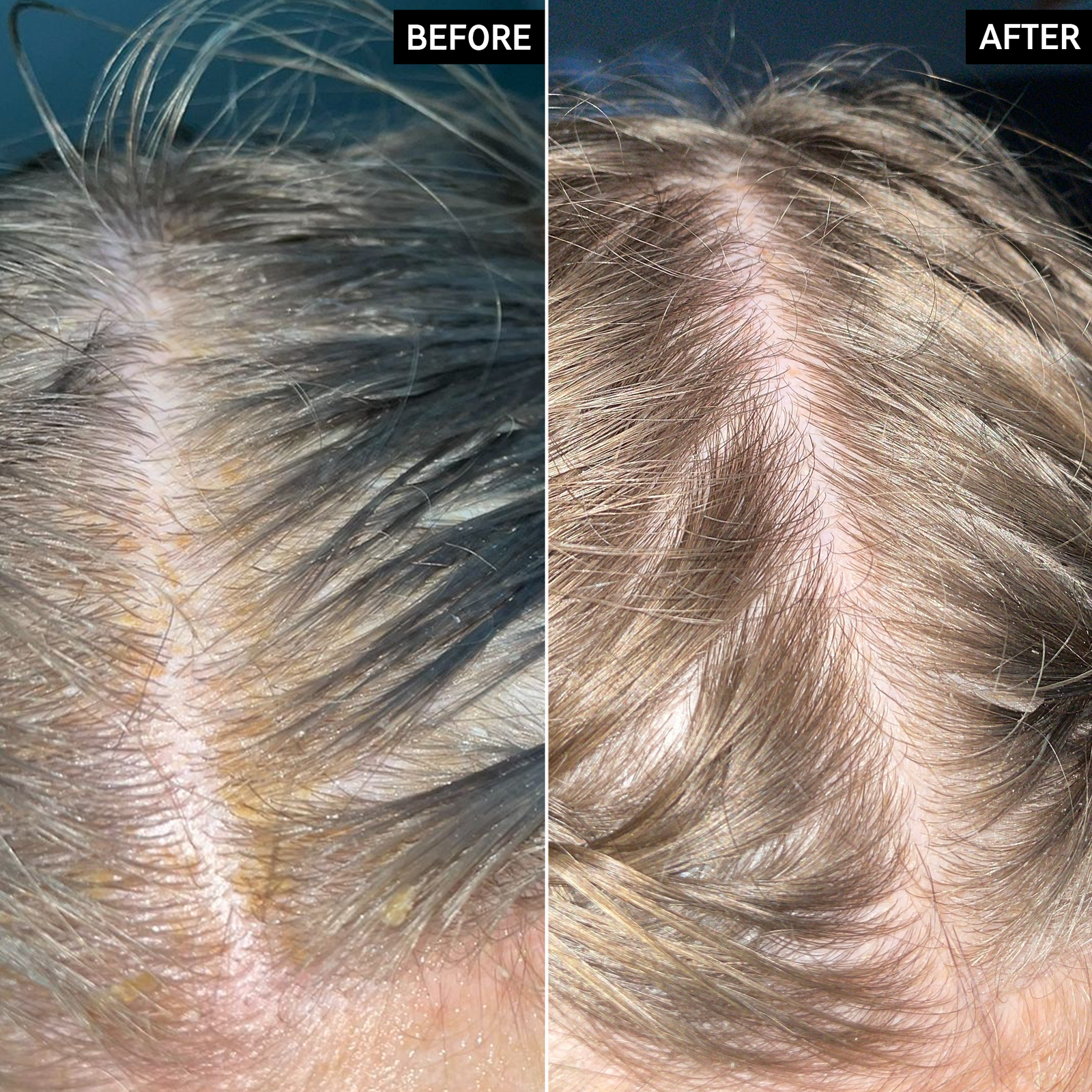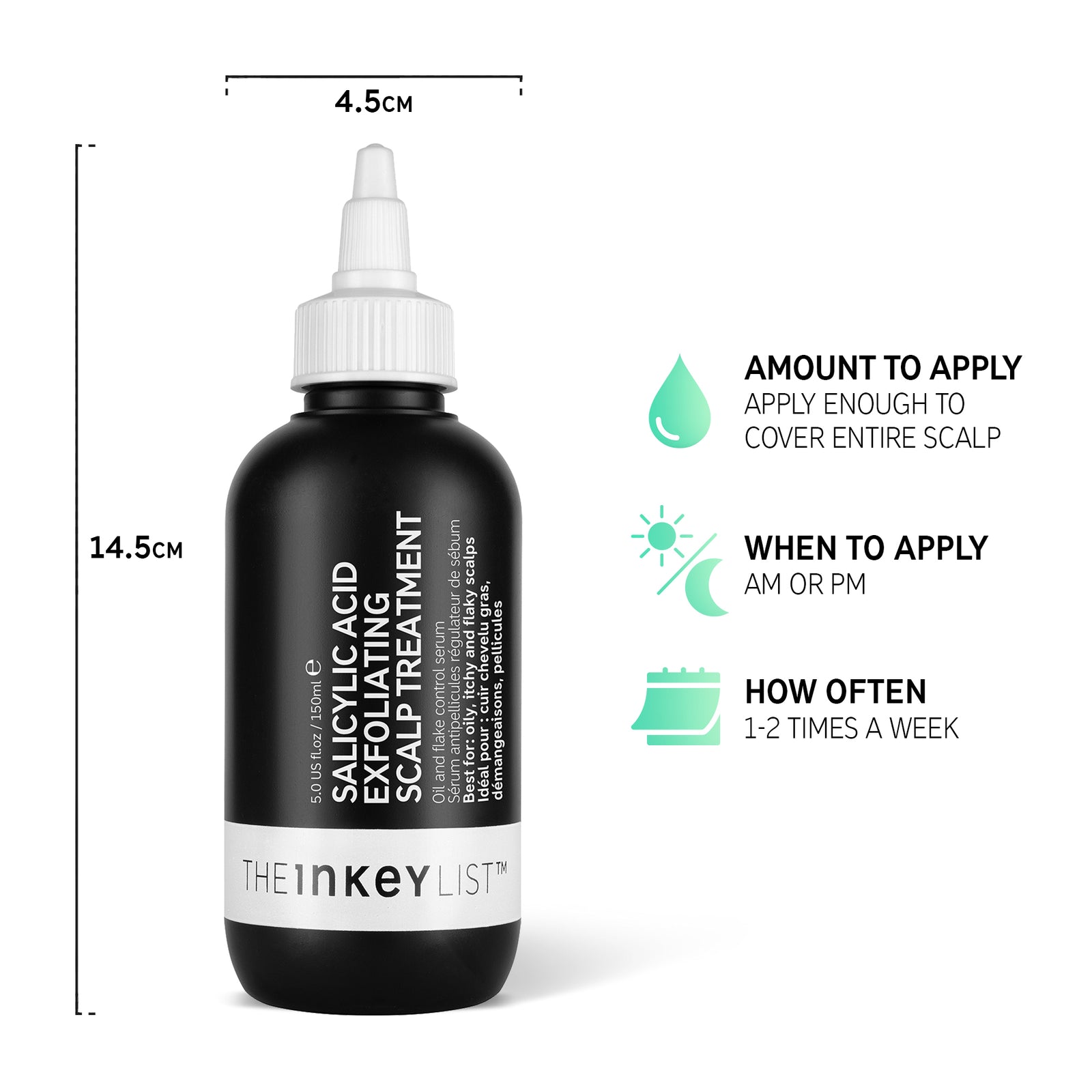 Salicylic Acid Exfoliating Scalp Treatment
| The INKEY List
Pre-wash treatment for flaky, itchy-feeling scalps
MEMBERS GET DOUBLE POINTS! LIMITED TIME ONLY
Tackle flaky, oily and itchy-feeling scalps head on with our Salicylic Acid Exfoliating Scalp Treatment. ​ ​

Formulated as a pre-wash treatment, it works to gently exfoliate and slough off dead skin cells on the scalp's surface to eliminate product buildup, reduce flakes, and minimize excess oil. Clinically proven to deliver visible results after one use, the formula soothes an itchy-feeling scalp, leaving it feeling healthier and more balanced.​ ​

Known for its exfoliating properties, Salicylic Acid helps to slough off dead skin cells, reduce oil levels and remove impurities from the surface of the scalp. The addition of FLUIDIPURE™ 8G and PANTHENOL delivers extra hydration and moisturization benefits to help soothe and calm while visibly reducing the appearance of redness on the scalp.​ ​

Suitable for all hair types including sensitive scalps and colour-treated hair, use as a pre-wash treatment, 1-2 times per week to refresh the roots and maintain a calm, balanced scalp.​
Suitable for:
All Hair Types

Sensitive Scalps

Colored Hair
Targets:
Oily Scalp

Flakey Scalp

Itchy or Irritated Scalp
Proud to be:
Carbon Net-Zero

Vegan

Alcohol Free

Silicon Free

Sulphate Free

Cruelty Free

B-Corp

Recyclable
Awards & Features
Compare with...
This product
Have you tried?
This product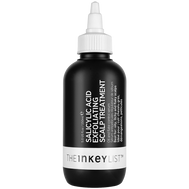 Salicylic Acid Exfoliating Scalp Treatment
•Use a pre wash treatment.
•Gently exfoliates and soothes flaky, oily and itchy-feeling scalps.
"I suffered with a dry, flaky yet oily scalp for so long. I'e been using this product 1-2 times a week for nearly 6 weeks. I've noticed such a difference… So so happy with my results and such a great price!"
"It clearly works! I saw less hair fall in the 1st week and baby hairs growing from week. Doesn't make hair greasy! I've gone to purchase this for the third time."
Still not sure?
Take our Hair & Scalp Quiz and we'll create you a personalized routine.
Take The Quiz
Total 5 star reviews: 119
Total 4 star reviews: 34
Total 3 star reviews: 11
Total 2 star reviews: 12
Total 1 star reviews: 19
Hair Goals

Oil Control,

Flake Free Scalp,

Soothe Irritated Scalp,

Curl Definition

Only thing that I have found that works for itchiness!

I have an oily scalp with a tendency to gain flakes. I use a store-bought anti-flake and anti-oil shampoo and it works well in reducing the appearance of flakes, but it still leaves my scalp itchy. Combining my shampoo with this as a pre-wash treatment (once per week or every other week, as necessary) reduces the itchy feeling and also helps with the oiliness, increasing the time between washes. It's a little bit tricky to apply since it is very liquid, but once you get used to it, you don't need much, you just need to spread and massage it well. It has never left my scalp irritated, even when I let it rest for more than the 10 minutes recommended. Even though it isn't the cheapest product, it allows me to keep buying a store-bought cheap shampoo, not using expensive pharmaceutical products and still getting results.

Hair Goals

Oil Control,

Increased Volume

Great product

I've been using this only for a week now wich means only two times yet but hair is lighter on the roots e less greasier

Wonderfull

I like it. My hair used to get oily after 2-3 days. And now it doesn't get oily that fast anymore. I can wash my hair once a week.
Reviews Loaded
Reviews Added