A guide to combatting split ends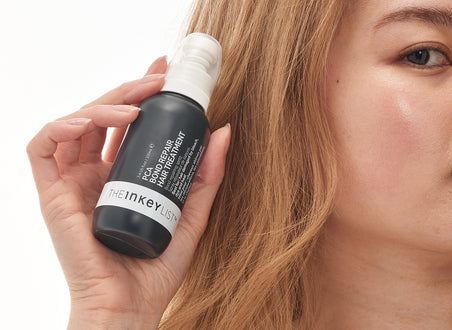 The hallmark of damaged hair, split ends are common but can also be an indicator that your routine needs a refresh to prevent and protect and keep locks looking luscious for longer.
WHAT ARE SPLIT ENDS?
The ends of your strands are the oldest parts of your hair and could have been enduring years of product, styling and lifestyle changes. Over time, the protective barrier around the lengths of our hair deteriorates which can eventually cause breakage and fraying - also known as split ends. 
Dryness and dehydration is one of the key causes of split ends as lack of moisture weakens the integrity of each strand and causes the cuticle layers to raise open making the structure unstable. Similarly, our washing, brushing and styling routine can also be having an impact with heat and chemical damage as well as friction, pulling and rubbing causing abrasion to the outer shaft. 
HOW TO GET RID OF SPLIT ENDS
Whilst split ends are irreversible once the damage to the strand has occurred, there are key ways to prevent them by protecting and strengthening our hair so the hair doesn't break. 
Prevention is the best cure - use protective products especially if blow drying and styling with appliances to form a barrier around your strands. 
We recommend: The INKEY LIst PCA Bond Repair Hair Treatment
PCA (Pyrrolidone Carboxylic Acid) Bond Repair Hair Treatment is a lightweight fine spray mist that helps to repair, protect and strengthen damaged hair bonds caused by colouring and styling. Immediately hair looks healthier, feels softer, less frizzy and becomes stronger, with improved shine and bounce.
Incorporate hydrating, reparative and protective products into your daily routine will help support long term hair health. 
We recommend: The INKEY List Hyaluronic Acid Hydrating Hair Treatment
A lightweight serum formulated with optimized high and low molecular weight Hyaluronic Acids, helps to hydrate, reduce frizz and brittleness to improve shine, whilst helping to protect hair from the impact caused by environmental pollution.
Reduce the frequency in washing your hair to allow natural oils to reach further down the strands to hydrate. The friction of washing can also cause hair breakage. 

Get regular hair cuts to keep lengths healthy and avoid the split ends climbing the strands.

Use a wide tooth comb to detangle hair and prevent breakage from tugging or pulling. Hair is most susceptible to damage when wet so, if you can, try and avoid any kind of brushing until it's dry. 

Encourage healthy and strong hair growth from the root up! 
We recommend: The INKEY List Caffeine Stimulating Scalp Treatment
An overnight scalp treatment that uses caffeine powder and an ingredient called Redensyl™ to help reduce hair loss by stimulating the scalp and hair follicles, therefore encouraging hair growth and helping to improve hair thickness.
For more information on split ends and to create your personal hair care recipe, contact us at askINKEY.