How to make your skin glow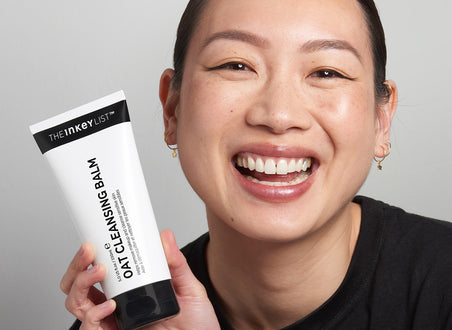 Glowing skin is often the goal of many with their skincare regimen. But for some, emulating the radiant look can feel impossible, especially if you experience dryness, dullness, or blemishes. However, at the core of glowing skin is a good, comprehensive skincare routine built around effective cleansing, suitable treatments, and comforting nourishment. 
For the ultimate radiance, read on for our top tips for glowing skin.  
CLEANSING
Cleansing properly is at the very root of achieving clear glowing skin. Creating a clean base is essential, and paves the way for any brightening treatments that will boost radiance, and moisturisers that will maintain the skin's barrier protection. 
Cleansing – at its heart – removes makeup and dirt, meaning it naturally helps to boost the skin's appearance. In the morning, opt for a cleanser such as the Inkey Salicylic Acid Cleanser, which will remove dead skin cells that can cause the complexion to look dull. 
When it comes to your PM routine, double cleansing is a good idea, particularly if you've been wearing makeup or sunscreen. The Oat Cleansing Balm has a beautifully rich texture and is excellent at removing makeup and leaving the skin feeling buttery soft. Try using the Fulvic Acid Cleanser as your secondary cleanse, as it features Kakadum plum (which is rich in Vitamin C), to instantly boost radiance. 
Read more about how to find the right cleanser for your skin type here.
TREATMENTS
Achieving glowing skin means reaching for products that both gently exfoliate and thus unveil healthier-looking skin, and brighten for skin that glows. 
There are a number of brilliant products you could turn to here. For brightening, you cannot beat our 15% Vitamin C + EGF Serum, which is best used in the morning. At nighttime however, you can instead supplement this for Retinol Serum; a gold standard in anti-ageing that boosts overall skin clarity, or Tranexamic Acid Serum, which – like vitamin C – helps to brighten and target dull skin.  
A brilliant bi-weekly treatment to try is the Inkey 2% Apple Cider Vinegar Acid Peel, which is built for multi-level exfoliation, and contains Glycolic and fruit acids. Using this twice weekly will help to unveil a brighter, plumper, more radiant complexion.
MOISTURE & NOURISHMENT 
Making sure skin is treated to enough moisture and nourishment is an essential step in achieving glowing skin. 
After cleansing, we advise always using our Hyaluronic Acid Serum before any other treatment, which immediately works to tackle dehydration and maintain plumped skin. 
After treatments, it's time to moisturise. While you should always use an SPF as your last step in the morning (over moisturiser if you have dry skin, or on its own if you don't need as much moisture overall), you should finish your nightly routine with a generous amount of product, such as the ultra-hydrating Omega Water Cream, or the super silky Symbright Moisturizer, which uses plant clary sage and Kakadu plum for unbeatable luminosity.  
Finish with a touch of Brighten-i Eye Cream, and you'll be glowing in no time. 


Want to find out more about your skincare routine for glowing skin? Contact us at askINKEY.