How to treat under-eye wrinkles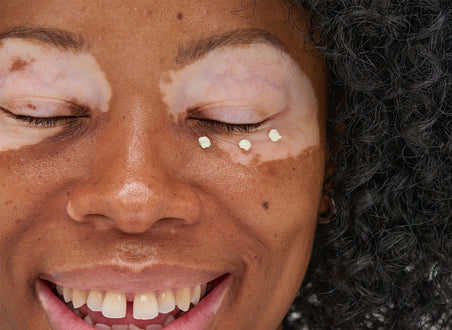 What causes under-eye wrinkles? 
There are a number of factors which can determine when under-eye wrinkles begin to appear, but generally speaking, many people tend to see them first forming in their late twenties and early thirties. This is when the skin's production of collagen and elastin starts to slow down, making wrinkles and other lines more likely to show up. 
That said, other things that can lead to under-eye wrinkles include ongoing facial movement where muscles contract such as squinting and smiling (which can result in 'crow's feet' lines), as well as sun exposure and dehydration. 
What can you do to prevent under-eye wrinkles?
In some ways, the development of under-eye wrinkles is inevitable as the passing of time cannot be halted. However, there are certain steps you can take to slow down the process, and to keep skin looking healthy
These include certain lifestyle changes such as getting enough sleep and maintaining a healthy diet, as well as protecting skin from damaging UV rays with SPF, sunglasses, and hats (these UV rays break down collagen further, leading to wrinkles). Vitamin C also helps to protect skin from environmental aggressors such as pollution, which also speeds up the decline of collagen.  
Lastly, it's crucial to recognise that the skin under the eyes is some of the most delicate on the body. For this reason, whichever products you choose to apply there (more on that later), you should do so ultra-gently, using your ring finger and in soft patting motions. 
How can you treat under-eye wrinkles? 
Luckily, there are some gold standard ingredients and products that can improve the appearance of under-eye wrinkles, which often work to prevent further damage too. These include:
Retinol: It is agreed amongst dermatologists and other skin experts that Retinol is one of the very best ingredients you can apply to skin for wrinkles and fine lines. It works to promote collagen production within skin, meaning it helps to slow down the natural ageing process, as well as boosting skin's overall texture. While using a retinol all over is advisable (try Retinol Serum), a targeted Retinol Eye Cream will work wonders for the under-eye area specifically. 
Learn more about Retinol with our comprehensive guide. 
Hydrating heroes: As with many skincare concerns, dehydration can make under-eye wrinkles more prominent. For this reason, your skincare regime as a whole should focus on reinjecting that hydration into skin, meaning wrinkles are less likely to reoccur. Our bestselling Hyaluronic Acid Serum is the ultimate hydration hero, holding up to 1000x its own weight in water, and helping the complexion appear plumper and smoother, while reducing the appearance of fine lines. Lock in your moisture with Peptide Moisturizer, which also helps to support natural collagen production. Just be sure to avoid direct eye contact with both of these hydrating products. 
Eye creams: As mentioned, a retinol eye cream is preferable, but retinol is best used at night due to its ability to make the skin more susceptible to sun damage. For this reason, you may want to invest in a morning-time cream such as our Caffeine Eye Cream, which is like a morning cup of coffee for the under-eyes! The antioxidant-rich formula instantly reduces the appearance of puffiness, dark circles and fine lines under the eyes to get you ready for the day. 
Want to find the perfect recipe for your skin? Or have further questions on under eye wrinkles? Get in touch with the askINKEY team.