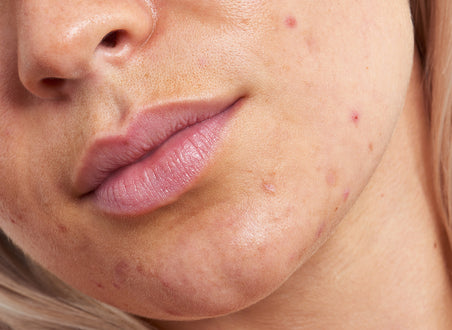 WHAT IS MASKNE?
Having been introduced as a preventative measure to stop the spread of COVID-19, the face mask has brought with it it's own skincare epidemic known as 'Maskne'. This term actually covers a range of symptoms, from big breakouts to irritation and redness. With many of us experiencing regular mask usage in our day to day, these side effects have surged and prompted a skincare shake up. 
WHY DO MASKS CAUSE ME TO BREAKOUT?
Think of the mask as creating an incubator of sweat, dirt, bacteria and excess oil which is then sandwiched close to your skin and that starts to paint a picture as to why your skin may be having a bit of a reaction to these daily coverings. As an important prevention to the spread of the COVID-19 virus, we can call in key products to help work with the face mask rather than against it. 

Masks can both worsen existing skin complaints as well as trigger new ones to occur. 

Breakouts as a whole are caused by excess sebum, dirt and bacteria clogging the follicles and sebaceous glands of the skin. When these become blocked and further infected they cause nasty cysts, pimples and blackheads (see our Acne 101 for more detail). Whilst this occurs without the use of a mask, having the skin covered can cause more of a build up as well as a warm, damp environment for the bacteria to breed and spread more quickly. 
It's not only breakouts that are bringing the blues - the masks themselves can cause reaction and irritation to the skin affecting the texture and tone. As with other clothing, if an item is too tight or ill-fitting this can cause irritation to the skin from excessive rubbing or friction on sensitive areas. Similarly, the texture or type of material it's made from can be a source of irritation or reaction. For a lot of us, this area is not used to being covered so newly constant contact can cause redness and marks.
MASKNE TREATMENTS FROM THE INKEY LIST
As Maskne is a broad term for a number of different types of complaint, here's the products to explore to target your Maskne type...
TO CLEANSE: SALICYLIC ACID CLEANSER
Cleansing is key to keeping maskne breakouts at bay. This non-drying, lightly foaming cleanser removes makeup and dirt, while penetrating deep into pores helping to reduce blackheads and breakouts and can be used multiple times per day without irritation. As well as effectively cleansing the skin, this 2% Salicylic Acid cleanser has an added zinc compound. Together they help with oil-control, reducing blackheads and breakouts and promoting a more even looking complexion.
HOW TO USE: Gently massage a small raspberry sized amount onto dampened face and neck for at least 60 seconds then rinse thoroughly with water. Leave on for 10 minutes as a deep clean face mask
QUICK TREAT: SUCCINIC ACID 
To hit specific breakouts or pimples for quick relief, our Succinic Acid Blemish Treatment is a targeted treatment which reduces inflammation and prevents clogged pores. With 2% Succinic Acid, the treatment gently reduces blemish size, reduces oil levels and unblock pores whilst also helping prevent them from clogging again after use. Combined with 2% Sulfur and 1% Salicylic Acid, this pocket powerhouse will help shrink blemishes and blackheads whilst remaining gentle on the skin.
HOW TO USE: Can be applied to a blemish up to three times per day. Place a small amount from the tube onto a clean finger and apply directly onto the blemish. If you would like to use other skincare or makeup on top, leave the formula to dry for 5 minutes before applying.
REDUCE REDNESS: NIACINAMIDE
Whether it's from rubbing or heat irritation, redness marks and patchiness can be your post-mask shadow. Niacinamide is a lightweight, power-packed serum containing 10% Niacinamide that can be easily layered into your skincare routine. This naturally occurring B3 vitamin helps to effectively reduce excess oil, blemishes and redness. Its thin consistency is formulated with 1% Hyaluronic Acid for added hydration and effective delivery.
HOW TO USE: After cleansing and hydrating with Hyaluronic Acid, gently pat a pea-sized amount into face and neck. If using alongside other serums, layer in any order.
ACTIVE ACTION: BETA HYDROXY ACID
To add an active to your routine that will combat clogged pores, meet Beta Hydroxy Acid - an exfoliator that works beneath the surface of the skin to help clear blockages, target blackheads and reduce excess oil. Containing 2% Salicylic Acid, it can penetrate deeper into your skin. BHA is a great choice for oilier types as its anti-inflammatory and anti-bacterial properties can help calm breakout prone skin without any burning or tingling sensation.
HOW TO USE: Gently pat 1-2 drops into the face and neck after cleansing and Hyaluronic Acid.
Follow with preferred serums and moisturizer. It can also be used as a more targeted treatment for blemish prone areas.
DEEP CLEAN: C-50 BLEMISH NIGHT TREATMENT
For extra TLC, take your treatment overnight. This overnight gel targets breakouts, unclogs pores and reduces the appearance of redness by morning. Its powerful combination of Vitamin C and Vitamin E helps reduce the bacteria count on your skin, helping prevent and reduce blemishes. 2% Salicylic Acid also helps to exfoliate and unclog pores, while Lotus Extract helps to balance oil - a key contributor to blemishes and breakouts.
HOW TO USE: Follow your usual skincare recipe, but replace your moisturizer step with this night treatment to help reduce and prevent breakouts by morning. Apply a thin layer to face and neck. Once absorbed leave to work overnight and wash off in the morning
BEAUTY BARRIER: Q10
This antioxidant serum creates a barrier which works to protect your skin, hydrate it and target signs of ageing on the side. It can provide an extra layer or filter between your mask and the skin and aid against rubbing/chafing. Working in the upper layers of the skin, Q10 is a powerful antioxidant that helps to protect your skin from environmental stress whilst the added Syn®-Tacks dual peptide and Squalane helps to reduce the appearance of fine lines and wrinkles. 
HOW TO USE:  On cleansed skin apply a pea-sized amount to the face and neck. If using alongside other serums, layer in any order. Alternatively, add a few drops of Q10 to your moisturizer to protect your skin from environmental damage during the day.
HOW TO PREVENT MASKNE  
As well as treating the symptoms, there are a few ways to help prevent Maskne outbreaks too...
Step up your cleansing game - wash your face regularly especially in the morning (pre-mask), immediately after wearing the mask (if possible!), and in the evening (post-mask) to ensure build ups of oil and bacteria are being regularly removed.

If you can use a mask made from natural materials such as Cotton  as opposed to synthetic fabrics as this allows the skin to breathe and causes less irritation. 

Wash your mask after every use - for health reasons as much as saving your skin. With such close contact to the skin, any dirt or bacteria that lingers will be in prime position to bring on a breakout. If using single-use masks then dispose after use. 

Check the fit of your mask - it should be snug but not too tight so as not to cause too much rubbing or friction.

Reduce make up use to keep the skin as clean as possible under your mask - the less on it to block the pores the better. 

If you're able to safely factor in mask breaks to your routine this gives your skin permission to breathe and reset. Remember to wash your hands after handling your mask! 
Want to know more about Maskne and how to build a routine unique to you? You can chat to our #askINKEY team now who'll be happy to help build you a personalized skincare recipe!