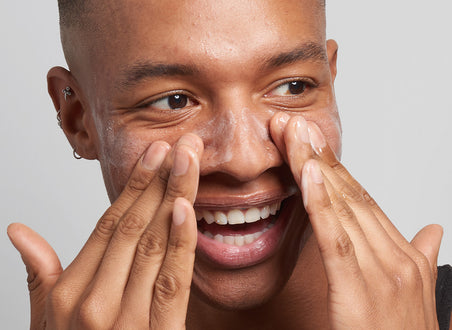 We know it's cliché but something about the start of a new year gives us that extra boost to go after our goals. We're ready & striving to achieve our healthiest skin yet. Read on to learn more about the 8 skincare resolutions we're setting out for ourselves this year and join us for your healthiest, glowing skin yet.
1. Create and maintain your skincare routine

Trust us, we're human too. Sometimes after a long day or fun night out, the last thing we can get ourselves to do is wash our face before bed. Even on makeup-free days it's important to keep your skin clean before bed because of the grease and pollution that naturally builds throughout the day. Would it make it easier if we told you a routine can be as simple as two products?
The ultimate PM recipe for a deep cleanse & maximum hydration? 


Need help building a new skincare routine
 like this one? Our 
Skincare Recipe Builder
 creates a personalized recipe to address your skincare goals! We recommend trying it for at least six weeks to see the results from a new routine. At least by then, this new skincare routine will be solidified as a daily habit! 
2. Introduce exfoliation

Exfoliation can seem scary, especially for those with dry skin. We can confirm that exfoliators are lovers not fighters and with the right products and introduction, can help to remove dead skin cells and clear out pores, preventing budding blemishes and breakouts, allowing new cells to surface giving you a healthy glow – hello new favorite product!

The key to exfoliation is knowing which exfoliants are helpful versus harmful. Physical exfoliants like scrubs with microbeads damage and irritate the skin. Instead, look for chemical exfoliants like AHAs and BHAs, which target different skincare needs and are suitable for different skin types. Find out more about AHAs and BHAs in our blog post here. You can also refer to our Recipe Builder or reach out directly at askINKEY 24/7 for advice on the best exfoliant for you.
For AHAs, we recommend:

For BHAs, we recommend:

3. Stay hydrated
Hydration always wins. Beyond making sure you drink enough glasses of water a day, committing to a hydration-focused skincare routine will reinforce happier, healthier and more hydrated skin.
Our top hydration picks:

4. More screen time
Nope, not on your phone! SPF is the most important step in your skincare routine for all skin types and tones, all day every day. Using sunscreen helps protect skin against premature ageing and sun exposure and should sit comfortably in everyone's skincare routine.
5. Green meets clean
Knowledge powers every decision we make, especially when it comes to the ins-and-outs of our products. Our commitment is to be 100% transparent in the sourcing, selection and use of our ingredients, so you can have confidence that when you choose INKEY, you choose cruelty free, vegan and recyclable.

6. Be smarter with your skincare
Your best skin for less. We're in this together and we only say that because we MEAN it. We want to help you to find the right products for you and get a smarter skincare routine that works even harder (and saves you money!)​
Our multipurpose marvels:
 

7. Don't forget about your eyes!
The skin around your eyes is more delicate and thin than the rest of your face, so it's important to give this area some extra TLC. We recommend incorporating an everyday eye cream in your routine. For an AM wake-up call, our 
Caffeine Eye Cream
 instantly reduces puffiness and dark circles. For your PM routine, our 
Retinol Eye Cream
 is a great treatment for reducing fine lines. 
8. Save €€€ and become an INKEY member!

If you know, you know! We've just launched our 
myINKEY member
 pricing which offers exclusive discounts to our 
community
. By signing up you'll also get access to unlimited 1:1s with a designated skin coach. 

Ready to join us on our skincare resolutions for 2023? Share your skincare journey and goals with us by tagging us on social media at @theinkeylist!