5 Ways To Save On Your Skincare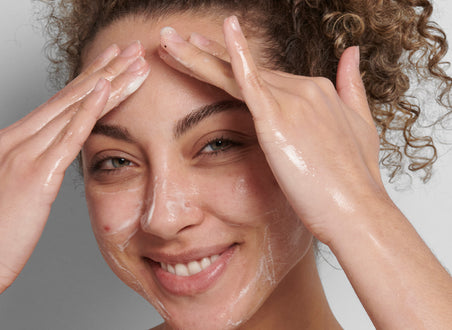 Want to streamline your skincare routine, but still see results? Follow these five steps when investing in your daily regimen. 


1. Know Your Skin Type 
Not sure what your skin type is? Find out in less than two minutes with this quick questionnaire. Knowing what your skin does and doesn't need is key to building a targeted routine that will help you reach your skin goals and avoid common missteps. 
You know, like using a moisturizer for breakout-prone skin when you have dry skin. That lightweight formula would likely only include hydrating agents that attract moisture and not contain omega-rich oils, ceramides, and other deeply replenishing emollients that keep moisture in and environmental stressors out.

Wrong formula + wrong ingredients = a wrong to your skin and wallet.
 
2. Use The Right Amount
Although it can be tempting to double down or triple up on a product, layering the same formula or using a greater amount than instructed won't accelerate results. In fact, overloading your skin with more than it can manage increases your chances of reversing progress and instigating visible irritations, clogged pores, and blemishes. 
To stretch the shelf-life of your favorite formulas even further, use only what you need. Here's a quick cheat sheet:


HYDRATORS: PEA-SIZE
Extra-thirsty skin, apply our Polyglutamic Acid Serum after cleansing to face and neck to lock in moisture and help skin appear smoother. Normal or combo skin? Reach for our Hyaluronic Acid Serum to hydrate and plump the look of skin. Both can be used morning and night. 


MOISTURIZERS: BLUEBERRY-SIZE
After hydrating, apply an even layer of our fast-absorbing Peptide Moisturizer to face and neck to help reduce the appearance of fine lines and wrinkles and balance skin's natural oil levels. With continued use, this nurturing formula helps support natural collagen, leaving your skin more youthful-looking.


EYE CREAM: PINE-NUT SIZE 
After applying your moisturizer and before you guard against UVA and UVB rays with SPF, gently tap on our hydrating Caffeine Eye Cream to help instantly reduce the look of puffiness, dark circles, and fine lines. 
Bonus points: This hydrating and energizing formula also doubles as an under-eye makeup primer by creating a smooth canvas for crease-free concealer application. 


3. Read The Ingredient Listings
All of them. Chances are your current routine has the same superstar ingredients at similar efficacious levels already doing hard work in another formula. Why? Actives that are great at what they do have multiple uses and benefits in skincare.

Take Niacinamide Serum (Vitamin B3) for example. It's known to help even skin tone, minimize the look of pores, address blemish-prone skin, and control oil. You could see it in a pore-clearing exfoliant, discoloration serum, SPF—or even all three. 
Think of it like this: you buy Niacinamide Serum for all its great benefits, only to realize it's already included in your Omega Water Cream. A little light label-reading could equal heavy savings. 


4. Save More with Multi-Benefit + Bundled Products
While a skincare product may identify itself as one thing on the tube or jar, it likely has multiple benefits—and uses. Just look at our Oat Cleansing Balm. It's an oil-based facial cleanser that helps to remove daily dirt, debris, and impurities. But the bestseller also works as a makeup remover for long-wear and stubborn formulas. You can also hack it as a 10-minute nourishing face mask to soothe sensitive skin. Three uses for the price of one? Yes, please.
When it's time to rebuild your routine or restock your newly discovered holy grails, skip adding individual items to your cart and head to the kits page. Here, you'll find upward of four full-size products for under €40. Plus, INKEY List's skincare bundles and kits are intentionally curated and shoppable by skin concerns and goals—zero guesswork required.
 
5. Look For Effective Percentage Ranges
Some people work best in the morning; others find their inspiration hits at night. Active ingredients have their individual sweet spots for optimal performance, too.
Let's use Salicylic Acid Cleanser as a quick case study. Salicylic Acid is a beta-hydroxy acid (or BHA) that's able to cut through oil, dive into pores, and dissolve dead skin cell buildup that can contribute to breakouts and visible congestion. It's most effective in a one-to-two-percent concentration in a leave-on liquid formula. Anything less, and you chance seeing immediate benefits. Anything more increases the chances of irritation.
Here are safe, yet effective ranges to look for when adding popular actives to your routine: 
Retinol: 0.01-2%

Retinaldehyde: 0.05-0.1%

Vitamin C: 5-30%

Niacinamide: 2-10%

Glycolic Acid (AHA): 15% or less

Salicylic Acid (BHA): 2%


Need some further guidance on your skincare routine? You can chat to our #askINKEY team now who'll be happy to help build you a personalized skincare recipe!