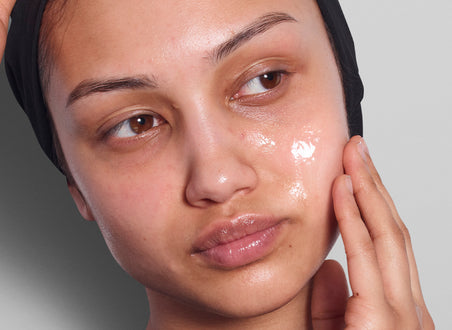 Chances are you've seen the phrase "skin cycling" all over your TikTok #fyp (for you page) and covered by the biggest skincare influencers and beauty editors. But what exactly IS skin cycling? Who is it best suited for and why are people switching their skincare routine to this pattern?
OK, let's first define what it is. Skin cycling is an extremely strategic way to support skin health while also minimizing potential irritation. It involves limiting the use of active ingredients and exfoliants to just two nights a week to give your skin a break. It's meant to be incorporated into your nighttime routine, and it works on a four-day cycle to maximize the benefits of your skincare products while also allowing your skin to recover in-between, preventing any potential damage or irritation from using actives that may occur.. 
Now let's break down how this four-day cycle works. After cleansing your skin with your go-to cleanser, the next step of your routine is dependent on what day of the cycle you're on.
Night 1: Exfoliation 
After cleansing, use a chemical exfoliator. A chemical exfoliator, versus a physical exfoliator, will help maximize the effects of skin cycling and the products you will be using the following days. For exfoliators, we recommend using our Glycolic Acid Toner or you can also use our PHA Toner for more sensitive skin.
Night 2: Retinol
The second night of skin cycling is focused on retinol. We recommend using our Retinol Serum or if you are looking for a stronger solution for acne scarring, you can use our Scar, Mark and Wrinkle Solution.
Night 3 & 4: Recovery 
Now the third and fourth night of skin cycling is what differentiates this routine from other skincare routines. It's completely intentional that for night 3 and night 4, no actives are implemented into your skincare routine. These two nights are meant to serve as a recovery period for your skin to allow maximum benefits with actives while also preventing the potential risk of damage and irritation. In short, exfoliants are completely off the table these nights. Instead, turn to hydrating and moisturizing products after cleansing. We recommend using our Hyaluronic Acid Serum or Polyglutamic Acid Serum.
After each night, make sure to finish your skincare routine with the moisturizer of your choice. 
Want to try skin cycling for yourself? If you have any questions about which products are best for you, you can reach out to our askINKEY team available 24/7 or take our Recipe Builder quiz to explore which products will help you achieve your skincare goals!