Collagen for skin: what you need to know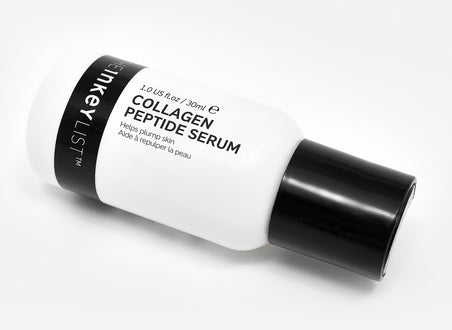 Collagen within skincare has been a talking point within the beauty industry as a whole – especially in recent years. But what does collagen actually do, and how can you include it in your regimen? We break down everything you need to know in easy-to-understand terms.  


What is collagen?
Collagen is a naturally-occurring protein within the human body. It is found in muscles, bones, and skin, and helps to keep the aforementioned strong and functioning. 
However, much like many crucial proteins, we actually begin to lose collagen as we age, as production begins to decrease and eventually halt. We produce plenty of collagen in our teens and early-mid twenties, but as we reach our late twenties and early thirties (and beyond), collagen levels do drop. This can cause wrinkles and fine lines to begin to appear, as well as loose skin. 
As well as the natural ageing process, other things that can cause collagen peptides to deplete include smoking and exposure to UV rays.  


What are the benefits of collagen?  
Adding collagen peptides into your routine can help with the body's depleting levels of the naturally-occurring protein. Collagen supplements or topical application aids in the stimulation of new collagen production, meaning physical signs of ageing are slowed down, such as the appearance of wrinkles and fine lines. Collagen can therefore help skin to look firmer, plumper, and more youthful in general. 


How to increase collagen in skin
For best results, it's advised that as well as topical application of collagen peptides, those seeking to quick-start their collagen production also engage in a healthy lifestyle. As things like smoking and sun exposure can accelerate the decline of collagen production, it's best to wear SPF always, stay out of the sun, and avoid unhealthy habits in general.


Does eating collagen help skin?
Diet also plays a crucial role - so does eating collagen help skin? Eating food that is rich in antioxidants can help to aid cell damage and promote collagen production from the inside-out. Think lots of fresh fruit and vegetables, and a balanced, varied diet overall. If you are keen to stimulate production even more, you can always invest in collagen supplements. However, a varied diet should usually be sufficient. 


Can collagen be absorbed through the skin and applied topically? 
When it comes to topical application, it couldn't be easier to integrate collagen peptides into your skincare routine. The Inkey List's Collagen Booster features the Matrxyl 3000™ peptide, which mimics the effects of what natural collagen does to your skin, boosting skin's plumpness and firmness. It also uses a Syn-Tacks™ Dual Peptide to aid in the reduction of fine lines and wrinkles. The Booster can easily be absorbed into skin and applied both AM and PM after cleansing and hydrating with Hyaluronic Acid, and before moisturizing (and SPF in the morning). It is also suitable for all skin types. 
To really boost skin, you could follow up your Collagen Booster with a layer of our
Peptide Moisturiser
, which helps to support natural collagen and hydrate the skin, leaving the complexion looking brighter and more youthful.