Peptides : What you need to know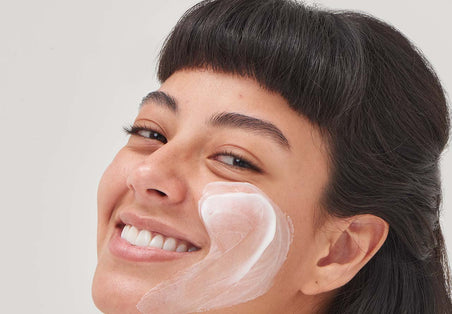 When it comes to anti-ageing, peptides are a powerful ingredient that you may have heard of, but what are they? 
Peptides, also known as polypeptides, are amino acids which form proteins in the skin. These proteins, such as collagen and elastin, occur naturally in the skin but production slows down as we age. These are the building blocks of the skin structure and depletion can cause lack of definition, sagging, dullness and wrinkles.
What are the benefits of using peptides in your skincare routine?
The purpose of peptides is predominantly to target the signs of ageing by firming the skin and improving elasticity which reduces the visibility of wrinkles.
Introducing peptides can be beneficial for collagen stimulation. Collagen is often consumed through supplements as the molecular structure doesn't absorb through the skin easily on its own but peptides can penetrate the skin's layers and encourage the process of its production. When collagen production slows down, skin appears dull, loses firmness and definition and wrinkles become more visible.
In addition, peptides help improve the skin barrier by increasing cell turnover which means it can support overall skin health, prevention of damage from UV and free radicals which can cause breakouts, pigmentation issues and uneven texture.
It's not just the skin that can feel the benefit of peptide power - our hair can also benefit from them and treatments can be great for increasing volume and thickness. The cell-signaling agents, support the protein production that is influential in growing hair. 
A nurturing yet fast-absorbing daily moisturizer with a dual peptide formula, aiming to reduce the appearance of fine line & wrinkles and balance skin's natural oil levels. With continued use, this helps to support natural collagen and hydrate skin, leaving skin looking youthful. Containing a 2% Royal Epigen P5™helps to even skin tone and delay the aging of skin cells and a 1% Hydrating Peptide Solution to support your skin's moisture barrier.
This antioxidant works to protect your skin, hydrate it and target signs of ageing.
Working in the upper layers of the skin, Q10 is a powerful antioxidant that helps to protect your skin from environmental stress. With an added Syn®-Tacks dual peptide and Squalane, this light, hydrating serum also helps to reduce the appearance of fine lines and wrinkles.
A serum that works to make the skin appear plumper and firmer, to help reduce the appearance of fine lines and wrinkles.
Using the Matrixyl 3000™ peptide, this smoothing and hydrating serum mimics the effect of what natural collagen would do to your skin, helping it appear plumper and firmer. Syn-Tacks™ Dual Peptide also gives an added boost to aid a reduction in the appearance of fine lines and wrinkles. 
Peptide Volumizing Hair Treatment
This lightweight serum uses a peptide formula to help increase hair thickness and volume. Limp and thin hair is an incredibly common hair concern across all hair types and lack of volume can be caused by several factors, including diet, product build up, hormones, genetics or stress.
Here's some tips for using peptides in your skincare routine: 
Peptides are beneficial used as a moisturizer or serum that stays on your skin. 

Pair with 15% Vitamin C & EGF Serum or Niacinamide Serum to maximize benefits and absorption.

Avoid using with AHAs as they can cause irritation from overstimulation.
To find out more, talk to the askINKEY team here.