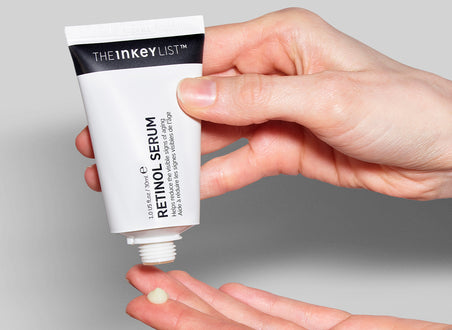 The Inkey List co-founder Mark Curry chats to Dermatologist Dr Liu and beauty expert Sali Hughes about all things retinol. Here's everything you need to know…
Do you need Retinol in your skincare routine?
Mark: It all comes down to you and your skin. Different types are available, and it comes down to what you are trying to achieve and the needs you are addressing. 
Dr Liu: If ageing is one of your main concerns, Retinol is by far one of the best ingredients you can use. It is the most studied ingredient when it comes to anti-ageing, and it's also well studied as an acne treatment; the skin gets smoother with texture and tone improves.  
Sali: Agree that Retinol is proven and brilliant at its job. I believe in retinol, but I would never say to somebody that they have to use retinol. It is possible to have beautiful skin without the use of actives. I love them but I don't think you NEED them.  
Some people can't use them due to sensitive skin; I don't subscribe to the online myth that you can just push through sensitivity, some people can't. Pregnant women cannot use retinol either, and there are lots of people whose concerns aren't aligned with Retinol. What is your skin like? How do you want it to look? What are your needs? If retinol answers these questions then use it. But if you don't need it, leave it out of your routine.  
Bakuchiol vs Retinol. Which one is right for you?
Sali: Bakuchiol is not a total dupe to Retinol and it doesn't work in the same way. Lots of the positive benefits of both ingredients are similar however. Bakuchiol has lots of unique benefits too; it's an antioxidant and completely plant derived, it's very safe, it's vegan, we think it's safe for pregnant women, and people with sensitive skin can use it. 
There are myths that the two ingredients can't be used together side by side, but they actually work very well together. Bakuchiol is soothing, so if Retinol makes your skin angry, Bakuchiol alongside it can be a great companion; Bakuchiol helps to stabilize Retinol. 
Also remember that Bakuchiol works better with SPF than retinol does, so bear this in mind and be conscientious with SPF when using retinol.  
Shop The INKEY List's Bakuchiol Moisturizer
Dr Liu: I agree with Sali on this one; it should be used as an alternative because it's not the same as retinol. Studies of bakuchiol so far haven't demonstrated the exact same effects as retinol. 
Sali: Yes, Retinol works around the clock, so you still need to take care of your skin in the morning. Without SPF you are diminishing the effects of retinol because it's not stable in the sun so ensure you are using SPF in the morning regardless of where retinol is used in your routine. 
When should you start using Retinol Serum? 
Sali: This depends on why and when you start using it. If you have teenage acne, it's fine to use. If you're wanting to use it for anti-aging, it may be later. As an guide I would say start it in your mid to late 20's. That said, I don't think it's ever too late. 
Dr Liu: I completely agree with Sali, it's a safe ingredient so there is no right age to start it. It's all dependent on what you're trying to achieve but it's never too late.  
In our mid to late 20's, we naturally start to lose Collagen and Hyaluronic Acid Serum in our skin, so it is often brought in around then. It's also a really common time for us to pay more attention to our skin and our skin health. 
Can you use Retinol Serum in your AM routine?
Dr Liu: Certain formulations of retinol can be tricky, so in general I recommend using it once a day in your routine at night.  
Sali: I totally agree with Dr Liu; I use Vitamin C in the morning and Retinol at night. Lots of Retinol formulations don't sit well under makeup so keep it simple and apply once at night.  
Dr Liu: Also remember your SPF the next morning; it's pointless using a Retinol without SPF. 
Is a stronger % Retinol Serum better? 
Mark: Percentages are tricky. There are different types of retinoids used in different products and that's before the percentage and compound variations come into play, and that's different still to what level of the active you want to use for cell renewal.  
There are different levels of retinoids: lower strength, purer retinol or retinol combinations and stronger retinol technologies and prescription retinol strengths.  
If you are in any way sensitive, look for entry level retinols and retinol palpitate. Look at the full ingredient list before using any product. The smaller the percentage, the better for new starters; you can build over time. You will see results regardless and they will remain the more you use it and build up the strength.  
Dr Liu: I recommend picking the right retinoid depending on what you're treating. Prescription retinols are actually where you should start; there aren't a huge number of studies done for non-prescription retinols. 
For sensitive skin and acne, I agree and recommend starting with a lower strength and then working up if necessary. There are certain studies that show higher percentages of retinols are better for acne, but when it comes to ageing, stronger retinols aren't necessarily always better. 
Go with an effectively-formulated retinol like the one from The INKEY List. It's not always about percentage, it's about the ingredient and formulation.  
What shouldn't you mix with Retinol Serum? 
Sali: Hyaluronic Acid Serum is an ingredient that can always be used with Retinol Serum; it can be used with any active.  
BHA's & AHA's can be used with Retinol but it's a lot to put your skin through at the same time, so I would use exfoliating acids in the morning before my Vitamin C.  
At night with Retinol, I keep it super simple. I have sensitive skin, so I pair it with a ceramide or something that is comforting for the skin and only use one active in my nighttime routine.  
Learn how to build your perfect skincare routine here.