How to improve skin texture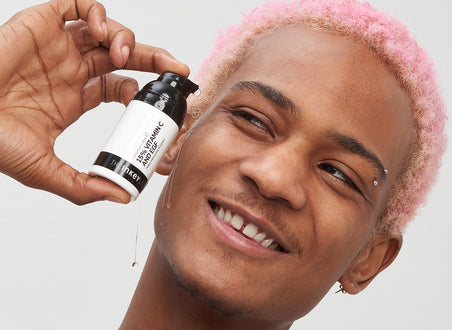 When exploring the health of our skin, we can see tone, tightness and texture as primary indicators of imbalance and change. The texture of our skin can be a primary concern and range from bumpiness to dry patches or pitting. Out of balance skin texture can appear dull, dry, patchy and uneven.  
The predominant root of uneven texture is due to the build up of dry, dead skin cells which can cause textural build up, breakouts and the dulling of skin. More long-term factors can also include continued sun damage and more severe scarring from acne or breakouts. 
There are a number of approaches to help even the texture of the skin: 
EXFOLIATION
Exfoliation physically removes the build up of dead skin on the surface to even and balance out skin tone. 
This non-drying, lightly foaming cleanser removes makeup and dirt and the buildup of dead skin, while penetrating deep into pores helping to reduce blackheads and breakouts and promoting a more even looking complexion.
This 10% Glycolic Acid works to remove dead skin on the surface to help improve the overall appearance of skin texture and brightness without drying out the skin. 5% Witch Hazel to help reduce excess oil and soothe.
For more sensitive skin struggling with texture - PHA (Polyhydroxy acid) is a gentle chemical exfoliant made of large molecules. It removes dead cells from the surface layer of the skin, while naturally locking in moisture. 
HYDRATION/MOISTURIZE
Keeping the skin hydrated and moisturized keeps the skin barrier healthy and plump. Dryness can cause patchiness and excess skin cells which block and build up on the surface.
A powerful hydrator for the skin's surface, Polyglutamic Acid can hold 4x more moisture than Hyaluronic Acid, locking in moisture and helping the skin appear instantly smoother. This 3% high molecular weight amino polymer is specifically designed to enhance skin moisturization on the surface. This helps to reduce the appearance of fine lines, as well as brighten and even skin tone. 
100% cold pressed, natural facial oil with antioxidant properties. Rosehip Oil provides an overnight nourishment boost for dull or tired skin and helps tackle uneven skin tone and texture.
Rosehip Oil is packed with essential fatty acids, Omega-6 and skin beneficial vitamins. 
PEELS 
A peel can help to lift the dead skin cells from the surface for a more intense cleanse 1-2 times per week. 
This next-generation peel is built for multi-level exfoliation and formulated to be hardworking but non-irritating. Antioxidant rich apple cider vinegar helps brighten and reduce redness, while minimising the appearance of pores, post-blemish marks and reducing breakouts. Glycolic and fruit acids combine to smooth and refine skin texture for overall smoother, brighter skin.
PROTECTION
Antioxidants such as Vitamin C and Q10 help to protect the skin barrier so it retains moisture evenly. This delicate yet powerful serum delivers a potent dose of actives to help brighten dull skin and support natural skin elasticity. Vitamin C, a powerful multifunctional antioxidant, helps to protect skin from damage caused by environmental pollution (called free radicals) 
Protect against longer term damage to skin and barrier by using an SPF daily. This will keep your skin healthy and even in tone as well as texture. This daily Dewy SPF 30 Sunscreen offers broad spectrum protection from both UVA and UVB rays.
To find out more or get a personal skincare recipe, contact the team at askINKEY.