Succinic Acid : What you need to know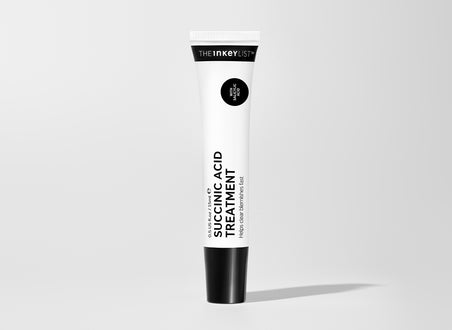 Acids – from Hyaluronic to Salicylic – are sometimes seen as some of the most mystifying ingredients for those new to the world of skincare. But really, their benefits are endless and their appeal widespread – and once you know how to use each one specifically, they're a lot less daunting. One such acid which may need a little more explanation is Succinic Acid, which is fairly new to skincare on the whole. Here's what you need to know about the brilliant ingredient. 
What is Succinic Acid?
Succinic Acid is naturally occurring in many animal tissues and plants, and when used in skincare, it is often derived from amber or sugar cane. The ingredient is a compound that is  anti-inflammatory and antimicrobial in nature, making it an obvious choice for skincare formulations, particularly those wishing to treat acne and redness. 
What are the benefits of Succinic Acid? 
As mentioned, Succinic Acid is naturally anti-inflammatory and antimicrobial, meaning it works well to curb acne symptoms, where skin suffers redness, irritation and inflammation. 
But that's not where the ingredient's benefits end. In fact, Succinic Acid is also highly soothing as well as hydrating, meaning it works well with other hero hydrators like Hyaluronic Acid Serum. 
The compound also offers antioxidant benefits, meaning it can help protect against free radical damage in a similar way to fellow ingredients such as 15% Vitamin C & EGF Serum. 
How should you use Succinic acid in your skincare routine? 
Due to its super small molecule size, Succinic Acid works best in treatment-style products, such as Succinic Acid Treatment, which specifically targets spots. 
The product is the perfect formula to apply to blemishes to clear and reduce inflammation, in a non-drying cream texture. Succinic Acid Treatment also works to prevent clogged pores, which means skin becomes less blemish-prone in the long-run. 
In addition to 2% Succinic Acid, the powerful treatment also features 2% sulfur and 1% Salicylic Acid for a three-pronged approach, which effectively beats spots and reduces oil overall. 
So how should you use this product in your routine, and how does it slot in? Our treatment is designed to be used in both the AM and PM, whenever blemishes appear, and is best used after cleansing and using Hyaluronic Acid Serum, and before eye cream, moisturizer, and SPF. It should be patted on with fingers directly onto the spot, before being left to work its magic. Thanks to its cream formula, it can be used under makeup, too – we just recommend waiting for around 5 minutes for the product to dry first. 
The correct order to incorporate Succinic Acid into your routine is therefore as follows:
Cleanse

Hydrate (

Hyaluronic Acid Serum

)

Treat (

Succinic Acid Treatment

)

Moisturize (Eye Cream and Moisturizer)
It's important to note firstly that you can use this treatment up to three times a day, and secondly, that the treatment is naturally green in hue, due to its chlorophyll derived plant pigment. 
If you'd like more information on the benefits or how to use Succinic Acid in your skincare routine, get in touch at askINKEY.