The Best Skincare Routine For Acne (By A Doctor)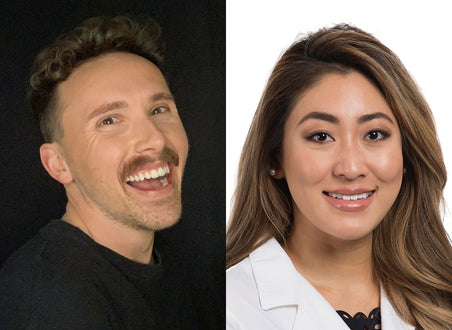 Dr Zion and askINKEY's Tom take us through a 5-step routine sharing their best skincare routine tips for acne and acne prone skin. Below are their product recommendations for each step. Remember that these products aren't for everyone so if you're unsure, head over to our Recipe Builder to create your personalized recipe or chat with  our askINKEY team where we are always happy to help you with your questions. 


Steps in your acne routine:
Step 1: Cleanse your face
Cleansing your face regularly will help reduce breakouts. Over-cleansing and scrubbing can cause damage to your natural skin barrier, so washing your face with a gentle cleanser is recommended. Add this step into your morning and evening skincare routine to remove excess make-up, dirt, and oil. This non-drying cleanser penetrates deep into pores helping to reduce blackheads and breakouts.
 
Step 2: Apply a hydrating serum
After cleansing, you can draw and lock in moisture by using a hyaluronic acid serum on damp skin. Great for combatting dry skin, hyaluronic acid is easily absorbed and can penetrate multiple layers of skin.
The boost of hydration helps achieve plump and smooth skin and can also reduce the appearance of fine lines and wrinkles.
Using a hydrating serum on the face and neck, in both morning and evening skincare routines, can aid the proper application of other products by helping them to absorb better.


Step 3: Use a treatment
After cleansing and hydrating your skin, you can target specific skin concerns using various treatments. Here are the benefits of a few popular treatment ingredients.
Niacinamide Serum – Great for layer into skincare routines. Niacinamide is a naturally occurring B3 vitamins that reduced excess oil on the skin and can help control redness.
Beta Hydroxy Acid Serum – A popular choice for oilier skin, beta hydroxy acid is effective in fighting breakouts and blackheads. It can also help reduce the appearance of pores.
Succinic Acid Treatment – Used to reduce inflammation and prevent clogged pores, Succinic Acid is often effective in reducing the appearance of blemishes and acne scars.
Tip – Certain products shouldn't be applied at the same time as they may result in sensitivity or irritation. For example, exfoliating products should not be used at the same time as AHAs.
Tip – Check the usage instructions on all products before applying, as some ingredients should only be used on alternate days or during evening routines. 


Step 4: Moisturize
Once all treatments have been applied, moisturizing is essential to make sure all the benefits from the previous ingredients are sealed and locked in.
Often, it's recommended to use a lightweight moisturizer during morning routines and a thicker product in the evening.


Step 5: Finish with SPF
SPF is important to use from a young age, especially if you're using actives. Add SPF at the end of your daily morning routine to protect against sun damaged that can result in long lasting skin and health effects.

Dr Zion Tips for Treating Acne: 
Tip 1: If your skin is breaking out, minimize your routine and build it back up gradually.  
Tip 2: To minimize hormonal acne, track your cycle and 7 days before start to incorporate an acne specific product. When your cycle is ending, phase this product out.  
Tip 3: To treat individual blemishes, make sure you cover the area surrounding the blemish to reduce the pores underneath from flaring up and creating more breakouts. 
Don't worry if you missed it, the masterclass is still available to watch here.