Your guide to antioxidant skincare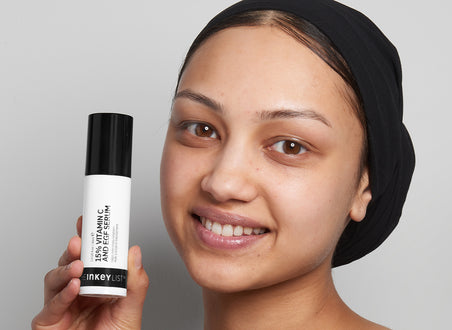 The term antioxidant appears everywhere, from our food to our face creams. Antioxidants are beneficial to our bodies because of the role they play in combating imbalance of free radicals and promoting good health - this includes on the skin. 
WHAT ARE FREE RADICALS?
Free radicals are naturally produced on the skin but can also be triggered and stimulated by stress, UV, pollution and toxins. The overproduction of these unstable and reactive molecules creates an imbalance on a cellular level which causes oxidative stress. When these free radical molecules, defined by their loose electrons, react with other molecules they cause damage to healthy cells resulting in  breakdown of the skin barrier, irritation and inflammation as well as more chronic symptoms such as premature signs of ageing and pigmentation issues. 
WHAT DO ANTIOXIDANTS DO? 
Antioxidants offer 3 ways to support the skin: protection, repair and anti-inflammation. Used daily, these ingredients prevent ongoing damage being caused to the skin by protecting the skin from environmental stressors such as pollution and sun damage that can increase the free radical production. This promotes long term skin health. 
Over time, antioxidants can also help reverse damage that has already been caused to the skin such as a compromised skin barrier and signs of ageing. 
Finally, some antioxidants can have an instantly soothing effect on the skin which can reduce the impact of irritation and inflammation. 
The main antioxidant ingredients you'll find in the skincare sphere are Vitamin A (Retinoids), Vitamin C, Vitamin E, Niacinamide and Q10. 
INKEY LIST ANTIOXIDANT INGREDIENTS
Working in the upper layers of the skin, Q10 is a powerful antioxidant that helps to protect your skin from environmental stress. Using this in the AM (and/or PM) of your routine helps to create a protective barrier against the potential pollutants of the day.
Vitamin C, a powerful multifunctional antioxidant, helps to protect skin from damage caused by environmental pollution and free radicals. Combined with naturally derived EGF (Epidermal Growth Factor) helps to stimulate skin cells to regenerate, producing rejuvenated, youthful skin. Vitamin C is most efficiently used in the AM but can cause sensitivity to the sun so we always recommend you follow with an SPF. 
Also found in many foods, this naturally occurring B3 vitamin helps to effectively reduce excess oil, blemishes and redness.
Your go-to ingredient for skin renewal, this slow release Retinol Serum is derived from Vitamin A and helps target the appearance of fine lines and wrinkles with less risk of irritation. 
This lightweight daily moisturizer quickly absorbs to deliver every essential vitamin for healthy-looking skin, including clarifying B3 (Niacinamide) to help balance oil, brightening antioxidant Vitamin C, and soothing Vitamin E.
If you have any further questions on antioxidants, or want help building them into your routine. Contact us at askINKEY.