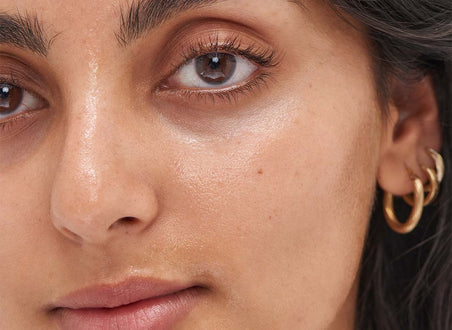 It's a term often connected to ingredients like collagen and peptides but what is 'plump' skin and why do we want it? Plump skin can be regarded as well-hydrated, firm with a natural fullness, roundness and bounciness. Its decline can be considered a sign of ageing and can also affect the brightness, texture and tone.
WHY IS MY SKIN NOT PLUMP?
As our skin ages, the production of collagen and elastin in the skin decreases and we begin to lose more than we produce. These two proteins are integral to the skin's structure and their depletion can result in sagging, fine lines, wrinkles and generally tired looking skin. It's in our mid-twenties, the natural processes and regeneration of our skin cells begins to slow down and this is when to adjust to accommodate the changes of age. 
Supporting the fill of these structural strands is the moisture that is naturally stored in the skin cells therefore hydration is a core component of obtaining plump skin and dehydrated skin can be dull, lacklustre, tight and uncomfortable.
HOW DO I GET PLUMP SKIN?
The ideal approach is to build products into your routine to support the production of elastin and collagen whilst giving hydration a boost to fill between this structure.
As plumpness can be a direct consequence of collagen and elastin production, targeting the skin's cellular processes is a good starting point. 
Collagen is a protein that offers structure whilst Elastin provides the strength of movement to allow skin to bounce back. Together they create the shape and texture of the skin and help maintain its youthful, bouncy properties. Formulas containing collagen and peptides are key to supporting and repleting the naturally created supplies in the skin.
Hydration is a key factor when it comes to your skin's plump factor. Products such as Hyaluronic Acid Serum help the skin retain its moisture which boosts the skin and visibly plumps. 
THE INKEY LIST FOR PLUMP SKIN 
Help out your hydration, protect the skin barrier and support collagen and elastin production with these plumping products...
This antioxidant works to protect your skin, hydrate it and target signs of ageing.
Working in the upper layers of the skin, Q10 is a powerful antioxidant that helps to protect your skin from environmental stress. With an added Syn®-Tacks dual peptide and Squalane, this light, hydrating serum also helps to reduce the appearance of fine lines and wrinkles.
Vitamin C also works to actively brighten and even skin tone and tackle signs of ageing. It has also been shown to boost collagen production which gives skin it's plumpness and elasticity.
A powerful multifunctional antioxidant that helps to protect skin from damage caused by environmental pollution. A hero ingredient, it has a host benefits to both prevent and correct signs of damage.  Adding Vitamin C to your skincare recipe can help reduce the impact of daily stressors on the skin such as pollution and sun exposure, which can lead to pigmentation, accelerated signs of ageing and a dull complexion.
Our Polyglutamic Acid Serum sits on the surface of the skin creating a thin, breathable film. This helps lock in the moisture below, plumping the skin while smoothing away the appearance of fine lines and wrinkles and also helping to brighten the skin.
This easily absorbed super serum works across multiple layers of the skin, hydrating your skin, helping it appear plump and smooth, while reducing the appearance of fine lines.
Hyaluronic Acid Serum is a powerful moisture-binding ingredient that works beneath the skin surface and can hold up to 1000x its weight in water. ​ Ensuring your skin is hydrated is essential for it to look healthy, therefore it's a must have step in every recipe! No wonder one is sold every 30 seconds worldwide*
Your go-to ingredient for skin renewal. Derived from Vitamin A, this slow release Retinol Serum helps target the appearance of fine lines and wrinkles with less risk of irritation. It also boosts overall skin clarity and uneven skin tone for a brighter, more even complexion. A perfect introduction to using Retinol for those who are starting to see the signs of ageing.
A serum that works to make the skin appear plumper and firmer, to help reduce the appearance of fine lines and wrinkles.
Using the Matrxyl 000™ peptide, this smoothing and hydrating serum mimics the effect of what natural collagen would do to your skin, helping it appear plumper and firmer. Syn-Tacks™ Dual Peptide also gives an added boost to aid a reduction in the appearance of fine lines and wrinkles.
A nurturing yet fast-absorbing daily moisturizer with a dual peptide formula, aiming to reduce the appearance of fine line & wrinkles and balance skin's natural oil levels. With continued use, helps to support natural collagen and hydrate skin, leaving skin looking youthful.
 OTHER WAYS TO PLUMP YOUR SKIN
Diet is a good starting point to plump from within. Healthy fats found in foods such as avocados offer a plumping boost. Omega 3 and 6 are important oils that can be found in fish, sunflower seeds and nuts like almonds. Tofu and dark leafy greens are thought to naturally support collagen production. Vitamin C and E amongst other antioxidants found in foods that can really support your skin.

Boost circulation and blood flow to your face through exercise or treat yourself to a DIY facial massage - you can use your finger tips, favourite oils or a jade roller for some serious self care. 

Sleep! As with all your body's functions, the skin needs time and rest to help it regenerate. Again, as its functions slow down with age, a good night's sleep is essential to recharge. 

Take care in the sun - make sure you're using an SPF regularly to maintain the health of your skin barrier which can have a direct impact on the plumpness and hydration of your skin. 

Cleanse and exfoliate - whilst this feels more applicable to acne concerns, keeping the skin clean and clear helps with the absorption of your plump boosting products (as well as being a key stage in your general routine).

If you're concerned about the plumpness of your skin and want to explore other options, we'd recommend consulting a doctor or dermatologist. 
If you'd like support with your skincare routine or to explore plumping products further - contact the askINKEY team.