Real Results With INKEY: Blemishes & Scarring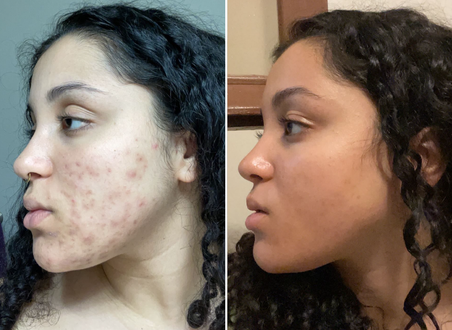 We all have that token skincare friend who we turn to in order to translate and make sense of everything that comes with skincare and how we can best use it, which products and ingredients to look out for, and what is going on in the industry.
Consider us your token skincare friend. Meet, Real Results with INKEY. This is our dedicated series where we pass off the mic to our very own customers, who will share their reviews and recommendations on some of our products. This month specifically, we will be highlighting topics and products regarding: Reducing spots and inflammation, getting rid of mask acne, and fixing active acne and scarring.
In this article, we're breaking down everything acne and scarring.


Shefana
Shefana uses one of INKEY's personalized skin coaches to take back control of her stubborn acne. She used; Salicylic Acid Cleanser, Hyaluronic Acid Serum, Beta Hydroxy Acid (BHA) Serum, Niacinamide Serum, Succinic Acid Treatment and SPF 30 Sunscreen.
"Now almost after 4 months, my skin has started to feel good. I am free of active acne. Not to mention I had stubborn acne vulgaris… The INKEY List's products helped me a lot to get rid of stubborn active acne. Succinic Acid Blemish Treatment helped me majorly."
Millie
Millie sent us some great before and after photos after using INKEY products to tackle maskne. She used Succinic Acid Acne Treatment.
"Ever since I started using the Succinic Acid Treatment, my acne has been under control and is progressively getting better. My main problem was maskne; it definitely helped speed up the recovery process and left me scar free. I love that it doesn't dry out the skin as this has been a problem in the past with my other treatments. I would definitely recommend this product, I love it!" 
Leena
Like Shefana, Leena also used an INKEY skin coach with the goal to reduce breakouts and fade acne scarring. She used; Oat Cleansing Balm, Hyaluronic Acid Serum, Caffeine Eye Cream, Vitamin C Serum, Tranexamic Acid Serum and Polyglutamic Acid Serum.
"I am writing to tell you that your products are life-changing. I will continue to tell anyone and everyone about how wonderful the INKEY List is, because you have changed my skin, and left me with the confidence I never thought I would get back."
Elia
Elia was happy with her results after using Mandelic Acid Treatment to spot-treat her breakout areas.
"Amazing! Worked so great on my skin in less than a month! It really helps in reducing inflammation too, will be repurchasing. The pictures were taken less than a month apart". 

If you want to find out more about how a skin coach could help you on your skin journey, chat to our askINKEY team.