|
The Best Beginner Skincare Recipe For Men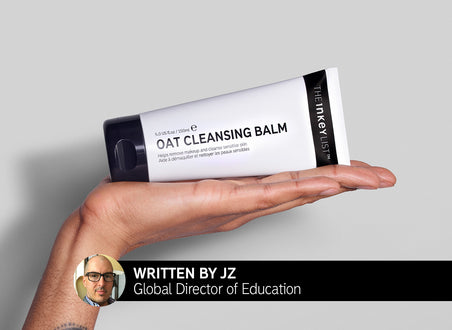 It's never too late to stop using the random bar soap in your shower on your face and get advice on how to take better care of your skin. At The INKEY List, we make skincare simple to understand, easy to use, and at a price that won't break the bank.
The first step in discovering your routine, is learning which skin type you have from the four most recognized: combination, oily, dry or "normal." At The INKEY List, we don't believe that any skin is more normal than another. However, 'normal' skin is balanced skin that would not be characterized as too oily or too dry.  Confused on your skin type and want to learn more? It's simple, just askINKEY.
The perfect beginner skincare recipe for men includes five products: Cleanser, hydrator, treatment, moisturizer, and SPF.

Now let's get started:


CLEANSER
Use every morning and every night.
Anyone can have oily skin, but we are more likely to experience it because we are known to have larger pore size and higher sebum production than women.  If you are experiencing oily or blemish prone skin, consider Salicylic Acid Cleanser. This blemish-busting cleanser, combines 2% Salicylic Acid (known as a BHA, Beta Hydroxy Acid) to address excess oil and visibly minimize blackheads and breakouts and unclogs pores.
Research shows the biggest causes of uneven skin tone in men are hyperpigmentation, sunspots, and acne scarring.  If you are experiencing this concern, I recommend Fulvic Acid Cleanser. Containing 0.5% Nordic Peat, naturally high in Fulvic Acid, it helps to improve the appearance of uneven skin tone. It's formulated also with Kakadu Plum (packing a huge antioxidant punch) that instantly boost's skin's radiance while Licorice Root extract helps soothe and reduce hyperpigmentation.
Dry and dehydrated skin also can affect men – it's caused by many factors – including changes in the environment, taking long showers with overly hot water, and not properly keeping yourself hydrated. Oat Cleansing Balm is a recommended product if you are dry and have dehydrated skin as it not only cleanses the skin and can act as a mask – but this multi-tasker can also be used as a shave balm, too – eliminating the need for other shaving products. 


HYDRATE
The one product that I recommend to everyone regardless of your skin concern or type is Hyaluronic Acid Serum. This hydration super serum, instantly hydrates skin, helping it appear plump and smooth, while reducing the appearance of fine lines.  It makes your other skincare products work even better. Take my advice: YOU NEED THIS.


TREATMENT  
Use morning and/or evening, dependent on product.
The INKEY List makes it easy to understand usage by indicating when to use a product by placing a "sun" and/or "moon" on each of our products.
 
If you are new to skincare, I recommend you introduce one treatment to begin based on your concern and as you become more confident in your skincare routine, add other products.
Oily or blemish prone skin? You need Niacinamide Serum.  This Vitamin B3 multi-tasking serum is thin in consistency and goes to work to reduce excess oil, blemishes, and minimizes redness. Another product to consider for this concern is Beta Hydroxy Acid Serum. This product penetrates deep into the skin, unclogs pores and has both anti-inflammatory and anti-bacterial properties. Looking for an "on the go" spot treatment? Succinic Acid Treatment clears active blemishes fast, reduces inflammation and prevents clogged pores.
Hyperpigmentation (uneven skin tone) can be caused from a variety of factors including but not limited to sun damage and post-acne marks. Sun damage can be improved by incorporating one (or both) dermatologist recommended ingredients into your skincare routine:  Retinol and Vitamin C.  Retinol Serum is a derivative of Vitamin A and has been recommended by doctors for over 50 years to address uneven skin tone, amongst other skincare concerns.  It's exfoliating effect on the skin's surface can help improve the appearance of tone and texture. 15% Vitamin C and EGF Serum, can be thought of as a "BLT," not the famous sandwich, but by offering brighter, lighter, and tighter (think firmer) skin. Vitamin C repairs the appearance of damaged skin, brightens the complexion and evens skin tone. Do not use Retinol and Vitamin C in the same recipe.


When hyperpigmentation is caused by post-acne scarring or marks, the ingredient we recommend is Mandelic Acid Serum. Containing 10% Mandelic Acid (an AHA) and 0.1% Retinol, this pairing of ingredients work together to target discoloration and dark spots by subtly exfoliating and encouraging natural cell turnover. 
Skin feeling tight and dry from dehydration? Here are two ingredients for you to consider as your treatment: Polyglutamic Acid Serum instantly smoothes skin and locks in moisture. Ceramide Night Treatment targets dehydrated skin helping to make the skin barrier feel rehydrated. Best of all, if you are a skincare minimalist, this product does not require a moisturizer on top. Just cleanse, hydrate, and apply Ceramide Night Treatment and lights out.
 
MOISTURIZER
Use both morning and night.
When you are experiencing oily or blemish prone skin, you still need moisturizer to maintain natural hydration. Use an oil and silicone free moisturizer, like Omega Water Cream that absorbs quickly into the skin, is water based and protects the skin barrier.
Symbright Moisturizer

is best for those looking to target dull skin, hyperpigmentation and uneven skin tone.
Do you have dry or rough skin? You need Dry and Rough Skin Solution 10% Urea Moisturizer.  This fast-absorbing moisturizer delivers instant hydration to very dry skin. Great for eczema and psoriasis prone skin, it gently exfoliates rough skin, leaving skin soothed and delaying dryness for up to 48 hours.


SPF
The most important step in skincare is SPF. Every morning, without fail.
Research shows men are more prone to skin cancer than women as they get older, and it's never too late to begin protecting your skin from the sun's damaging ultraviolet rays: UVA (causing aging) and UVB (which cause the skin to burn).

Our Dewy Sunscreen SPF 30 is a lightweight, broad spectrum SPF 30 UVA & UVB that blends in seamlessly for all skin tones leaving a dewy skin finish. This ultra hydrating, non-greasy formula is loaded with skin-loving ingredients like 8% Polyglutamic Acid, Glycerin and Squalane to lock in moisture for smooth, dewy skin.
EYE CREAM
One must-have final recommendation for a beginner skincare recipe. Use both morning and night.
Caffeine Eye Cream. This hydrating formula is formulated with caffeine to reduce water retention and relieve puffiness under the eyes and the appearance of fine lines and wrinkles. Though this eye cream is great for treating dry under-eyes, it's also suitable for all skin types.
And there you have it! The BEST BEGINNER SKINCARE RECIPE FOR MEN BY SKIN TYPE. Don't feel intimidated. You do not need to start with every step at once. And we always recommend beginning slowly, adding products one at a time after patch testing. Apply a small amount of the product on dry cleansed skin behind the ear or on your inner arm. Wait at least 24 hours to see if any response occurs.
At The INKEY List, we are here for you ALWAYS!  Have a question about your perfect beginner skincare recipe? Just askINKEY.