Winter Facial Masterclass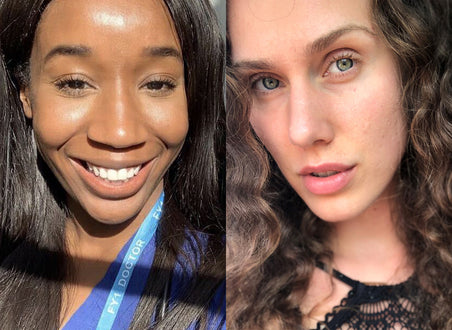 Cassandra Bankson & Dr Kemi share some amazing tips to help better treat your skin in the winter months and walk us through a step by step routine that you can try at home! 
Remember that these products aren't for everyone so if you're unsure, head over to our Recipe Builder to create your personalised recipe or chat with our askINKEY team who are always happy to help you with your questions. 
Steps in your routine:
Step 1: Oat Cleansing Balm  
Tip: Apply to your skin dry before adding water, it soothes the skin and helps to remove makeup, SPF & impurities 
Step 2: Hyaluronic Acid Serum 
Tip: Always use Hyaluronic Acid Serum after cleansing! It holds moisture in the skin to maximise hydration 
Step 3: 15% Vitamin C + EGF Serum , Polyglutamic Acid Serum, Caffeine Eye Cream 
Tip: 15% Vitamin C + EGF Serum is great for under eyes if they are dry & dark 
Tip: Use Polyglumatic Acid Serum with Hyaluronic Acid Serum, it to helps to really seal the hydration! 
Step 4: Peptide Moisturizer, Symbright Moisturizer, Squalane Oil  
Tip: Mix both moisturizers to create a texture that's right for you  
Tip: Add Squalane Oil to your routine to really lock in the benefits of your treatment products. It's also great for Acne prone skin! 
Step 5: SPF 
Tip: SPF is for everyday use, even when wearing makeup. To top up in the day put some on a beauty blender and dab over your skin  
Shop all INKEY List skincare products 
Cassandra & Dr Kemi's Top Tips:
Tip 1: Switch things up in the winter to account for colder temperatures. Listen to your skin, Winter usually means more gentle ingredients.  
Tip 2: For Double Cleansing, use Oat Cleansing Balm followed by Fulvic Acid Cleanser for a nourishing hydrating cleanse 
Tip 3: Always use Hyaluronic Acid Serum, it helps to keep the skin plump, fresh and glowy 
Don't worry if you missed it, the masterclass is still available to watch here.